In Backlog, besides offering cloud plans, we also offer a self-hosted Enterprise plan. To start your trial with Backlog Enterprise, please follow the procedure below to get started.
Getting started with trial and installation

1. Start your 30-days free trial
To start your 30-days free trial, go to the Enterprise page and download the trial.
2. Download the license key and files for installation
After registering your organization details, you will be redirected to the Enterprise account page. On this page, you can find your license details.
You can download the trial license key and rpm files when you click on the Download Software link. You can also refer to the Installation Guide provided in the Document Links section for setting up your environment for the installation.
Note: The maximum number of users will default to 1,000 users when you start a trial. If you wish to change it, please contact us.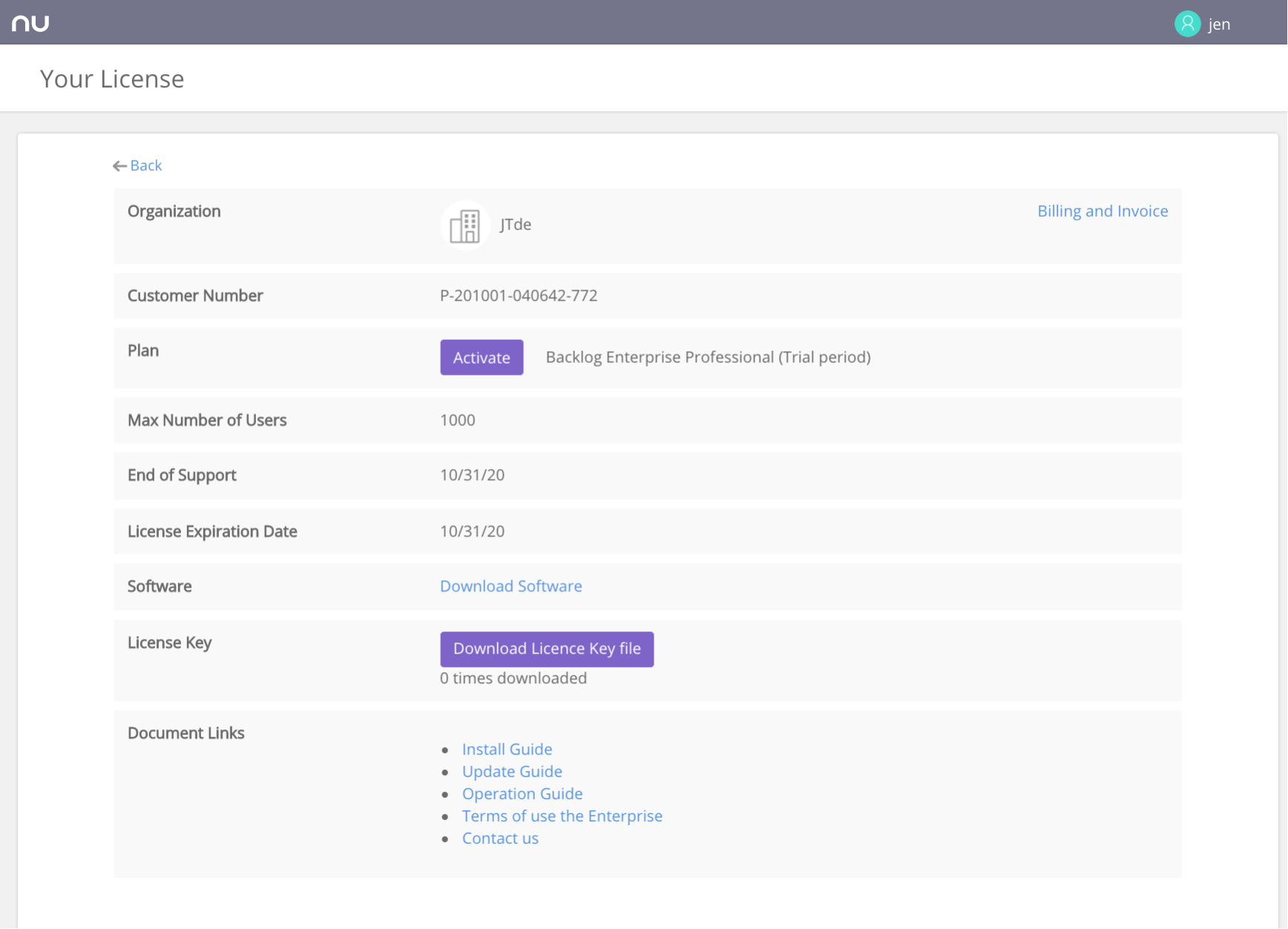 Upgrade from trial
When you wish to upgrade your Backlog Enterprise trial to a paid subscription, please follow the procedure below.

1. Upgrade from trial
To upgrade, click on Upgrade from trial, it will redirect you to the plan selection page with the payment methods. After your selection, enter your billing details and make the payment.
Note: For global users (outside of Japan), we only support credit card payments.
2. Renew your license key
When upgrading from trial to paid, we will issue a new license key (temporary license key or paid license key) for your access to Backlog when the trial period ends (/trial license key expired). Once you have upgraded from trial, you can get the new license key in the Enterprise account page for your Backlog Enterprise access renewal.

Note: For Japan users, we support another payment option — bank transfer. In this case, we will issue a temporary license key (until the payment due date) for continuing your use of Backlog during the period when the trial ends and before receiving payment.

When we receive the bank transfer payment, we will notify you via email about the paid license key together with your payment receipt. To download the new license key, you can access the Enterprise account page to download it.

For the credit card payments, you can download the paid license key in the Enterprise account page once the payment is made.
3. Manage your billing and invoice
To view your billing details and download invoices, you can go to the Billing and Invoice page. You can learn more about viewing and downloading invoices here.
Related Articles
View and download payment receipts
Cloud-Based VS On-Premise