This feature limits access to only registered IP addresses. For example, you can limit access to your Space only from your office.
Edit Access Control
Space Access can be limited to specified IP addresses (for paid plan users above the Starter Plan). Please use this option to restrict access from other IP addresses according to your company's security policies.
Click "Access Control" on Space Settings. Enter the IP Addresses that are allowed to access the space.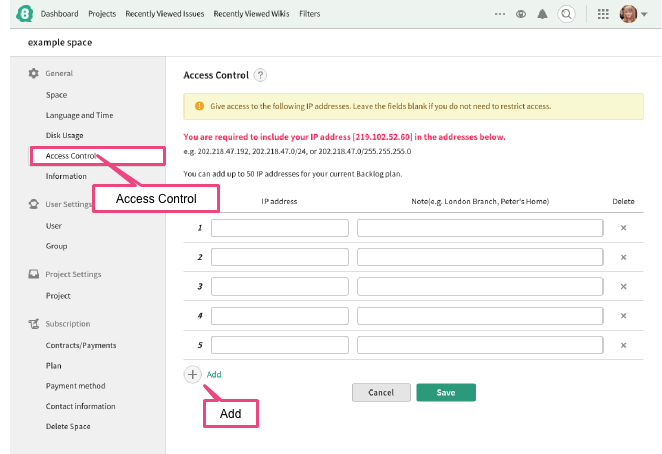 "Your IP address" is the current address that your PC is accessing Backlog from.
Please include your IP address in the list of allowed IP addresses or you will not be able to access Backlog from your terminal.
If no allowed IP address is set, access points will not be controlled.
Setting IP addresses for Access Control
You can limit which IP addresses can access your Space on the Premium and Max plans.
The number of IP address that you can set depends on your plan.
- Standard plan: 50
- Premium plan: 100
- Enterprise plan: Unlimited